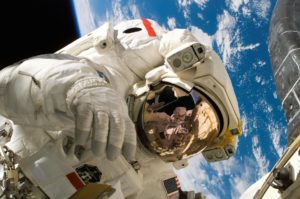 April 11, 2019
Dear friends,
In the news yesterday, there was a report of scientists in various locations around the world working together to produce a photograph of a black hole. For the past few weeks, I have enjoyed watching Canadian astronaut David Saint-Jacques report from the International Space Station (ISS). To see two videos of astronauts on the ISS, please go to:
https://www.youtube.com/watch?v=4QXogSiNZo8
and
https://www.youtube.com/watch?v=e3za6ITFfWk
. As the world's attention is drawn to outer space, it brings to mind how amazing the universe is and how ridiculous it is to think that it came into being by any other means than by the design of God.
In preparing to lead a class on the Old Testament at church, I have been impressed by reading about how God worked in the lives of individuals like Abraham and Jacob. Both of them experienced a name change, as well as changes in their circumstances and attitudes. In his "Life Principles Bible" Dr. Charles Stanley writes: "God developed His relationship with Abram in many ways. Sometimes He spoke to Abram, sometimes He appeared to him, and here (in Genesis 15:1) He communicated His will through a vision. Why? Because the Lord wanted the man who would be the father of His chosen nation to love, trust and obey Him – a faithful example to all the generations that followed."
I don't know about you, but I find it hard to change sometimes. Moving the radio follow-up office last year helped me to realize that what might seem overwhelming can be accomplished if it is God's will. Having friends to assist us is a great blessing from the Lord.
Karen and I are very grateful for the many prayer warriors and financial partners who stand with us as we seek to share God's love and the truth of His Word with people in Québec and around the world. We would ask for your prayers that we would be obedient to the Lord's leading and that those who are considering serving the Lord in full-time ministry would know His will and timing. There is a great need for workers in the harvest field and the time to sow God's Word may be shorter than we think.
Scripture for the weekend: "Do not store up for yourselves treasures on earth, where moth and rust destroy, and where thieves break in and steal. But store up for yourselves treasures in heaven, where neither moth nor rust destroys, and where thieves do not break in or steal; for where your treasure is, there your heart will be also." Matthew 6:19-21 (NASB)
Thought for the weekend: "God will do whatever it takes to show us His will because our intimacy with Him is His highest priority for our lives." – Dr. Charles Stanley (from his "Life Principles Bible")
By His grace,
Steve