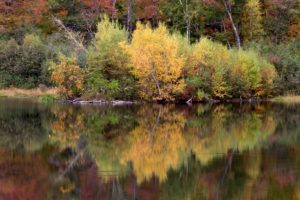 October 31, 2019
Dear friends,
Listening to the news on the car radio this evening, I heard that Prime Minister Justin Trudeau decided to celebrate Halloween differently this year, opting to accompany his children in private, rather than in public. The report attributed the change to the widely-discussed photos that were released by his opponents in the early part of the recent election campaign. Tonight, we think about the masks that people wear that aren't as visible as the ones that children wear while collecting candy from neighbours. Through the Internet, we learn about events around the world within minutes, but we often fail to realize that people near us are hurting.
I recently read a book entitled "Eternity in Their Hearts" by the late Don Richardson, who spoke at a conference that I attended in 1977. What he shared about his encounters with people in Irian Jaya left a deep impression on me. The following quote has been attributed to a French mathematician named Blaise Pascal: "There is a God-shaped vacuum in the heart of every person, and it can never be filled by any created thing. It can only be filled by God, made known through Jesus Christ." According to several sources, this quote is a variation of what Pascal wrote in his "Pensées," but the revised version conveys the same truth as the original quote. For more about this, please see: https://itsjustme.wordpress.com/2011/04/19/the-correct-quote-of-blaise-pascal/. In his book, Don Richardson tells about people in different countries and cultures around the world that were waiting for someone to tell them about the one true God.
20/20 has long been known as the standard for great vision, Yesterday, I heard Québec Premier François Legault discuss a values test for new immigrants to take effect on January 1, 2020. You can learn about this at: https://globalnews.ca/news/6101638/quebec-values-test-new-immigrants/. Hearing this makes me wonder how many people would pass a test about the values contained in the Bible.
Scripture for the weekend: "He has made everything beautiful in its time. He has also set eternity in the hearts of men; yet they cannot fathom what God has done from beginning to end." Ecclesiastes 3:11 (NIV)
Thought for the weekend: "Everyone is born an original but dies a copy. Whom you copy determines your destiny." – Mel Johnson
By His grace,
Steve