Free Bible Courses For All
ON UNITY – THAT THEY ALL MAY BE ONE
Bible courses for children, teens and adults are available online and through the mail. These courses, from the Mailbox Club, are offered to you free of charge. By studying God's Word, you will come to know the Lord Jesus in a deeper way.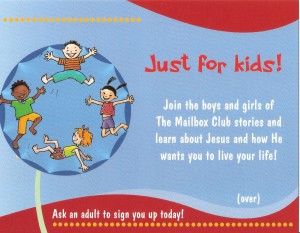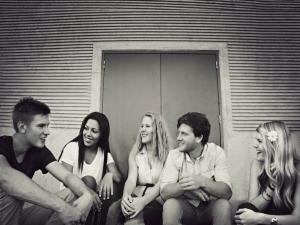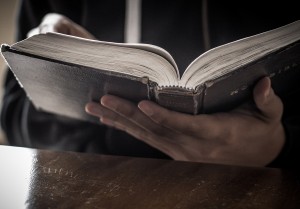 Testimonials
« I took the Mailbox Club courses when I was a child. I remember being very excited to receive each next lesson as it came in the mail. The courses gave me fundamental knowledge about God, the Bible and Jesus at a young age. I am grateful to my parents for putting me through the courses. »
Ryan – Quebec, CANADA
« The lessons have brought me closer to the Lord in knowing what he has done for us. Since I have been taking these lessons, I will give you one of my testimonies. I was diagnosed with lung cancer and through a lot of prayer I am now in remission and I am giving all the praise to my Lord. It also taught me how much the Lord loves us and forgives us, no matter what we do. And oh, how I love him. I am so glad I was saved by his grace and know him as my Saviour. »
Edna – Wisconsin, USA
« I am french-speaking but I decided to take the English courses because for me, the words really touched my heart. When I'd work on the Bible courses it was a time of peace, and I felt closer to the Lord. The courses are easy but there is so much to learn at the same time. I won't forget all the things that I learned from them. It has helped me to be able to share the Word with others. I brought my parents to the Lord before they died. My son wanted to die and I shared with him and know that he believes in God. The courses are a wonderful gift. »
Ginette – Quebec, CANADA
« I have been taking these Bible study courses since my early teens and now I'm in my thirties! They've equipped me with wisdom, truth, encouragement and hope to faithfully serve the Lord. They've kept me from Satan's deceit and given me a deeper understanding of God's love. Praise be to God for this wonderful ministry! »
Heidi – Quebec, CANADA
« These courses mean everything to me. I feel lost when I don't have one to complete. I wait in total anticipation for a new one to come in the mail. It is amazing how much I learn. Always, always, looking forward to learning more. »
Suzete – Ontario, CANADA
« I am Portuguese Canadian. English is my second language. I really enjoy working on the Bible Courses, but I have difficulty with the English, reading and writing because I never went to school to learn. I have learned English through my Bible study. I am very happy with the friends I met during my study. Every time I read or talk about the Bible study I feel like I am talking to GOD because I really believe in Him. He's the source of my life. »
Georgina – Ontario, CANADA
La Voix de l'Évangile, Québec is a vital part of the extensive radio work of Global Outreach Mission which reaches into many French-speaking countries of the world. The broadcasts are recorded in the studio of the radio follow-up office in Châteauguay.
The ministry began in 1955 in the Back to the Bible Broadcast studios in Lincoln, Nebraska through a staff member who spoke French fluently and had a burden for the French-speaking people of the world. An office was soon established in Aix-en-Provence in France.
In 1974, an office was opened in Châteauguay, Québec, under the direction of Global Outreach Mission representatives, Clarence and Pearl Shelly. At the present time, the broadcasts are aired on one station in Montreal, six stations in northern Ontario, seven stations in Atlantic Canada and one in Champlain, NY. Stephen Frank became the director of La Voix de l'Évangile, Québec in 2006. His wife, Karen, is also a representative of Global Outreach Mission.
The weekly French-language 15-minute broadcast features Pastor Michel Martel, a Québec evangelist who faithfully teaches the Word of God. Audio messages (in French only) are available on CDs at a reasonable cost as well as approximately 40 books in French on the Christian life.
Our ministry is made possible by the financial and prayer support of individuals, families and churches. Our Bible correspondence courses are sent free of charge to hundreds of students in several countries. Your financial partnership would be greatly appreciated to help defray the cost of materials and postage.
Kindly send your donation in Canadian or U.S. currency to:
Action Mondiale d'Évangélisation
110 Principale – P.O Box 80025
Châteauguay, Québec
J6J 5X2
Canada
Tax-deductible receipts for donations will be sent to Canadian residents.
1. WE BELIEVE the Bible to be verbally inspired, the only infallible, authoritative Word of God.
2. WE BELIEVE that there is one God, eternally existent in three persons:
Father

,

Son

and

Holy Spirit
.
3. WE BELIEVE in the
deity
of our Lord Jesus Christ, in His virgin birth, in His sinless life, in His miracles, in His vicarious and atoning death through His shed blood, in His bodily resurrection, in His ascension to the right hand of the Father, and in His personal return in power and glory.
4. WE BELIEVE that all men have sinned and for the salvation of lost and sinful men, regeneration by the
Holy Spirit
is absolutely essential.
5. WE BELIEVE in the present ministry of the
Holy Spirit
by whose indwelling the Christian is enabled to live a godly life.
6. WE BELIEVE in the resurrection of both the saved and the lost; they that are saved unto the resurrection of life and they that are lost unto the resurrection of damnation.
7. WE BELIEVE in the spiritual unity of believers in our Lord Jesus Christ
September 13, 2018
Dear friends,
For the past couple of weeks, we looked at some factors involved in motivating us for missions. The first three items are to be converted, to be convinced that Jesus rose from the dead, and to be confident that the Bible is the Word of God. If you did not read these blog posts, you can read them on the ministry website.
The next ingredient in being motivated for missions is to be committed to obey the Word of God. Here is a selection of verses which reveal that Jesus is the Word of God:
John 1:1 –"In the beginning was the Word, and the Word was with God, and the Word was God."
John 1:14 – "And the Word became flesh and dwelt among us, and we beheld His glory, the glory as of the only begotten of the Father, full of grace and truth."
John 14:21 & 23 – "He who has My commandments and keeps them, it is he who loves Me … If anyone loves Me, he will keep My Word."
Revelation 19:13 – "…His name is called the Word of God."
John 18:37 – "…You say rightly that I am a king. For this cause I was born, and for this cause I have come into the world, that I should bear witness to the truth. Everyone who is of the truth hears My voice."
Philippians 2:5-11 – "Let this mind be in you which was also in Christ Jesus … and that every tongue should confess that Jesus Christ is Lord, to the glory of God the Father."
Revelation 19:16 – "And He has on His robe and on His thigh a name written: KING OF KINGS AND LORD OF LORDS."
Pilate asked a question that has been linked with his name throughout history: "What is truth?" (John 18:38). Dr. David Jeremiah writes: "Pilate's question reflected the cynicism of his day – and ours. Skeptics were teaching that truth is unknowable and therefore a matter of opinion, so if such a thing as absolute truth existed, there would be no way to know it. Ironically, the answer to Pilate's question – the Truth – was standing right in front of him."
John 14:6 – "Jesus said to him, 'I am the way, the truth and the life. No one comes to the Father except through Me.'"
In the December 2017 edition of "Turning Points" magazine, Dr. David Jeremiah tells the story of R. U. Darby, who joined his uncle to search for gold in the 1800s: "The two men had initial success, but then the mine dried up. They drilled deeper, but to their intense disappointment, they found nothing but rock and dirt. They finally decided the vein of gold had been inconsequential.
Darby and his uncle sold their equipment as junk and took the train back home, where they had to work hard to repay their creditors. But the man who bought the drilling rig decided to give it another try. He called in a mining engineer to advise him, and the drills went back to work. Only three feet from where the Darbys had stopped drilling, the new owners found one of the richest deposits of gold ever discovered in that area." R. U. Darby went on to pursue a very successful career in the insurance industry, profiting from what he learned in his mining adventure. He said: "I stopped three feet from gold, but I will never stop because men say 'no' when I ask them to buy insurance." We may feel discouraged at times in our spiritual life, but we must persevere in studying God's Word and sharing its spiritual gold with others.
In many areas of the world, Christians are being persecuted for their faith. Yesterday, I received an email today from a Christian advocate who is working hard to obtain the release of Pastor Andrew Brunson, who has been illegally detained in Turkey for more than 700 days. Let's continue to pray for his release and the safety of other brothers and sisters in Christ who are facing fierce opposition, as shown at:
https://www.vomcanada.com/News-Articles/
.
Scripture for the weekend: "But this Man, after He had offered one sacrifice for sins forever, sat down at the right hand of God, from that time waiting till His enemies are made His footstool" Hebrews 10:12-13 (NKJV)
Thought for the weekend: "If we are armed with the truth, we need not fear. The great enemy that lurks around the corner for all of us is not an enemy at all. Jesus took the sting out of death and gained victory over the grave." – Dr. David Jeremiah (from his Study Bible)
By His grace,
Steve
---